Welcome to the Greater Atlanta Chapter of APIC Official Website
 Chapter Mission:
The mission of the Greater Atlanta Chapter of APIC is to support and promote the practice of Infection Control across the continuum of healthcare.  We actively advocate practices that maximize the safety of all who work, visit, or receive care in the various health care settings in the Greater Atlanta area.  Our organization believes that through education, mentoring, collaboration, consumer advocacy, and the timely sharing of information, we can influence infection control practices in the communities we serve.  Our group of Infection Control Professionals are great resources and have expertise in the areas of epidemiology, scientific method, information technology, education, performance improvement and quality management.  Our focus is global and we recognize the values of discipline and diversity as fundamental to our mission.
Next Chapter Meeting:
September 20, 2017
Lunch Begins at 12:30 pm, Presentation Begins at 1:00 pm
"Tuberculosis"
Speaker:
Dr. Adawode Oladele
Dekalb County Board of Public Health
Location: Emory St. Joseph Hospital
Industry Sponsor:
Upcoming Continuing Education Opportunities and Chapter News/Announcements:
Emerging Issues:
September is Sepsis Month and our Chapter has partnered with our colleagues at the CDC to promote awareness of this life-threatening event. To view the new CDC resources on Sepsis Prevention, please visit: https://www.cdc.gov/sepsis/get-ahead-of-sepsis/index.html. 
CDC has released a new Vital Signs Report on Healthcare Legionnaire's Disease released on June 6. To view the Vital Signs report, please click here.
The CDC Healthcare Infection Control Practices Advisory Committee has moved the guidelines to a new dedicated page that is clearly divided by infection type. To view the guidelines, please visit here.
CDC has created a new infection control page that contains many great resources to reduce HAIs in healthcare settings. To visit the new page, please visit here.
To view a current real-time listing of global infectious disease outbreaks, visit the WHO outbreaks site by clicking here.
WHO Issues New Guidance for Viral Hepatitis Testing for HBV and HCV. To learn more, visit here.  To download the new guidelines, visit here.
CDC issues alert on global emergence of invasive infections caused by the MDR yeast Candida auris
To view the CDC alert, please click here.
CDC Experts Host Collaborative Zika Virus Summit-Presentations and Prevention and Response Resources Now Available
To view the new CDC resources, please click here.
CDC releases new resources to combat antibiotic-resistant infections: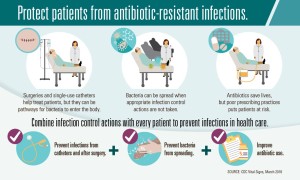 CDC releases new guidance and campaign to fight antibiotic resistant infections. To learn more about the new CDC resources, please visit the Infection Control Resources page or the CDC Website.
FDA Issues Guidance to Protect US Blood Supply from Zika Virus Disease
CDC releases new ATLAS tool to target antibiotic-resistant infections.  To use the new tool visit: CDC ATLAS Program
Job Openings: